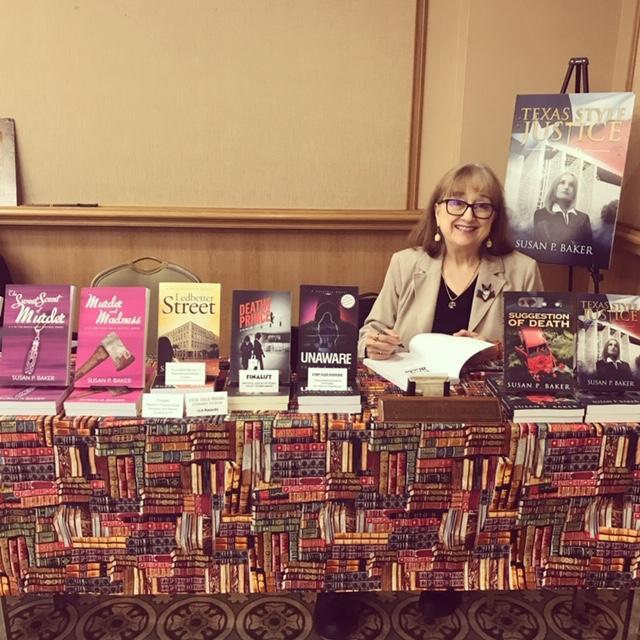 Susan P. Baker, a retired Texas family court judge, presided over everything from murder to divorce for 12 years. Afterward, she traveled around Texas as a visiting judge for another 12. Prior to being elected to the bench, she practiced law for nine (9) years, and was a probation officer for two (2) years. Susan's works are derived from her experiences in the justice system or events in and around courts in Texas, fictionalized, of course!
She is the author of 11 novels of mystery and suspense set in Texas, two nonfiction books, and an eclectic collection of short pieces. Her novels include five featuring Mavis Davis, a private detective; two Lady Lawyer mysteries starring criminal defense lawyers Sandra Salinsky and Erma Townley (3rd in the works); and four standalones with court participant protagonists (including judges and lawyers).
Her two nonfiction books are Murdered Judges of the 20th Century and Heart of Divorce—Advice from a Judge. The title of her collection is Fly Catching.
Susan is a member of All Author, Alliance of Independent Authors, Sisters in Crime, Authors Guild, Writers League of Texas, Texas Authors, and Galveston Novel and Short Story Writers.
She has two children and eight grandchildren. She loves dark chocolate, raspberries, and traveling the world (and has lost count of the number of countries she's visited). An anglophile, Susan most enjoys visiting her cousins in England and Australia (where she was finally able to visit in September of '22). She hopes to finally drive Route 66 in 2023. She is at home in Galveston with her rescue kitty, Tudi.
Read more about Susan, sign up for her mailing list, and find her books here at susanpbaker.com. Like her at facebook.com/legal writer. Follow her on @susanpbaker and on Instagram @suewritesandreads.